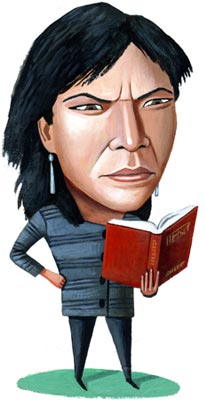 –Okay, so we haven't gotten a chance to interview Michiko Kakutani (I just loved this picture). But anyway, kidlitosphere bloggers are just as cool.
These interviews with book blogger/book reviewers are GREAT!  Methinks we should be doing more of this kind of thing.  Talking to the people who work in various aspects of the publishing industry.
Publicist interviews?  Copyeditor interviews? 
Know what I'd really LOVE is an interview with the receptionist at each of the BIG houses. How fun would that be? I bet they field a lot of crazy phonecalls!